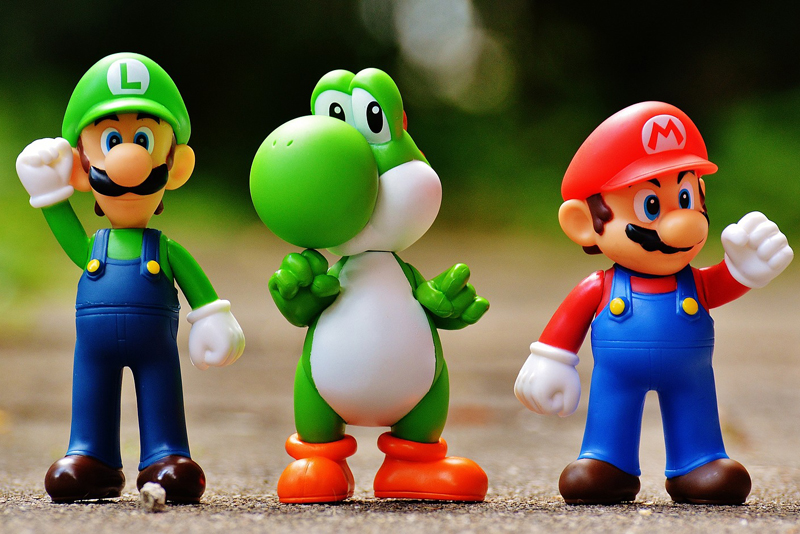 Action games let you jump, race and coin-chase your way to victory.
Cel Damage on the GameCube


Have you ever wished you could have fun in a Bugs Bunny or Daffy Duck cartoon world? Cel Damage lets you enjoy fun bloodless games in that world!
Chibi-Robo GameCube


Chibi-Robo is a fun collecting game originally put out for the GameCube. It works equally well for the Wii. This is appropriate for all ages and quite fun!
Kirby : Nightmare in Dreamland


The "Kirby" series has been going on for quite a while, even spawning its own TV show. Now play the newest game in the series, a remake of the NES game with SNES graphics.
Kirby's Return to Dreamland - Wii


A return to classic Kirby gameplay, "Kirby's Return to Dreamland" should make any fan of the series happy with its cooperative-centric gameplay.
LEGO Harry Potter Years 1-4 Wii


I admit it. I adore the Lego games for the various franchises. We played all the way to 100% in the Lego Harry Potter game and had a blast doing it. Here's why!
Lost in Shadow Wii


Lost in Shadow for the Wii is an intriguing game that has you adventure as the shadow cut off of a young child. It reminds me much of Ico, with its quiet, moody atmosphere.
Luigi's Mansion on GameCube


Luigi´s Mansion let´s Mario´s little green buddie shine in a battle to cleanse a haunted house of ghosts.
Mega Man X Collection GameCube


If you're a fan of Mega Man, then the Mega Man X Collection gathers up the first six Mega Man games in one easy to use group!
Metroid Fusion


Metroid Fusion is the REAL continuation of the Metroid Saga, as Metroid Prime takes place at about 1.5. If you like the Metroid story, get this!
Metroid Prime


Metroid Prime on the GameCube is a game whose release has finally connected the Metroid series to the new age of gaming.
Paper Mario N64 Review


Anything with the name Mario on it tends to have the golden touch. Just look at Mario 64, one of the classics on the N64 and still an incredibly playable game. Super Smash Brothers was another Mario game that was amazingly fun
Prince of Persia : Rival Swords


Prince of Persia - Rival Swords for the Wii is a remake of Two Thrones, but for the Wii. The game has also been gentled a bit, earning a Teen rating rather than the Mature rating Two Thrones sported.
Rayman Raving Rabbids 2


If you enjoyed the first Rayman Raving Rabbids game, have cheer! The second game is back with more mini-game fun that's fun for single players as well as groups.
Sonic Adventure 2 : Battle


This fun game for the GameCube involves you on many different levels - the traditional Sonic races and item-collecting, plus fighting, and even pet-raising!
Sonic And The Secret Rings


Sonic and the Secret Rings brings the blue hedgehog of rolling fame to the Wii platform. This attempts to combine speedy ring-gathering with a bit of role playing storyline. The 1001 Arabian Stories are being erased!
Sonic Heroes for GameCube


Fans of Sonic the Hedgehog will be interested in seeing him in a new setting - in a jumping platform game using 3 heroes at a time.
Sonic Riders Zero Gravity Wii


Sonic Riders Zero Gravity for the Wii is a skateboard racing game in a futuristic world with Sonic. It's similar to Mario Kart in the way you gather power-ups, and you're of course chasing rings as well.
Spyro - A Hero's Tail


Spyro - A Hero's Tail for the GameCube continues the fun in the Spyro universe. You run around as the friendly purple dragon with his little yellow dragonfly sidekick - solving puzzles, gathering items, and having fun.
Super Mario All-Stars Limited Edition


Super Mario All-Stars 25th Anniversary Limited Edition is a fresh release for the Wii of four classic games. In essence you're getting Super Mario Brothers 1, 2, 3, and lost levels.
Super Mario Galaxy - Wii


A game intended to continue the line set by Super Mario 64 and later Super Mario Sunshine, Super Mario Galaxy is the latest in Nintendo's star franchise. Exploring the depths of space, Super Mario Galaxy braves a new frontier and also returns to many familiar settings.
The Legend of Spyro - A New Beginning


The Legend of Spyro - A New Beginning for the GameCube tries to capitalize on the fantastic Spyro series which I adore. However, this is not a worthy sequel (or prequel).
Trauma Center : Second Opinion


Remember the Operation game of your youth? Trauma Center is like an online, graphic version of that - with puzzles, too. You need fast fingers and a sharp mind to save your patients.
Ty the Tasmanian Tiger 2 : Bush Rescue


Ty the Tasmanian Tiger 2: Bush Rescue for the GameCube picks up where Ty left off. You've got an Ausssie-style Tiger on platforming style wild adventures.
Viewtiful Joe 2 - GameCube


In Viewtiful Joe 2, you get to play either Joe or Sylvia as you take on various enemies in a side-scrolling movie screen. Fast forward or slow down time to solve the puzzles!
Viewtiful Joe GameCube


Viewtiful Joe is a fun game which has you play a person trapped in a movie, side scrolling along forward and backwards through time. Slow down and speed up to achieve your objectives!
X-men : The Official Game


X-men: The Official Game is a typical movie-based game. It's fun in terms of immersing yourself into the storyline. In terms of gameplay, though, it doesn't offer a lot.
ZombiU Review - WiiU


A Zombie-based survival game on the Wii U, the aptly titled ZombiU makes interesting use of new technology to deliver some unique gameplay.
Editor's Picks Articles
Top Ten Articles
Previous Features
Site Map
Content copyright © 2018 by . All rights reserved.
This content was written by . If you wish to use this content in any manner, you need written permission.
Contact Lisa Shea for details.