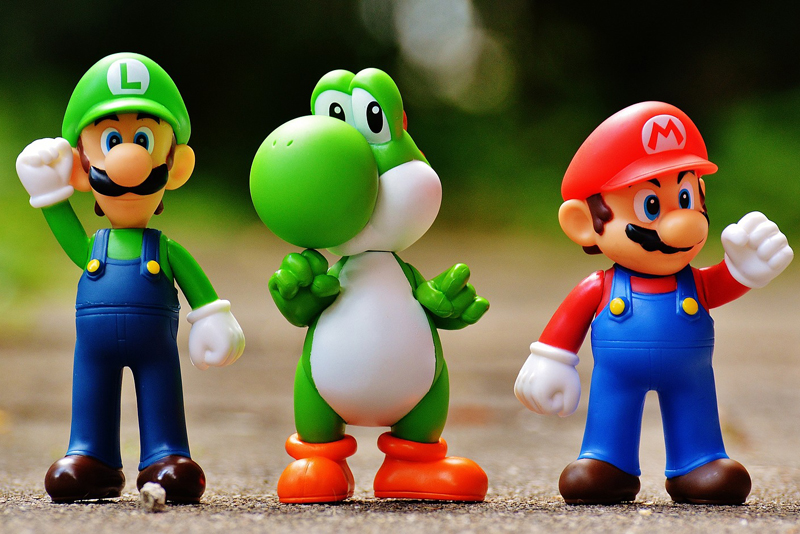 Adventure games are great. They draw you in with a fun plot, and provide hours of fun gameplay.
Avatar : The Last Airbender


A video game adaptation of the hit Nickelodeon series, "Avatar: The Last Airbender" is a decent game in its own right.
Baten Kaitos Origins


The sequel to Baten Kaitos, this game is a great addition for fans of that first game. You have real time card strategy action mixed in with an epic storyline.
Dinotopia - The Sunstone Odyssey


Fans of dinosaurs will enjoy romping around with your favorite T-Rexes and stegos. But for the rest of us, this platform-adventure is a bit dated.
EXTRA SNK Characters 2 - All About Illustrations


The large-format, full color book EXTRA SNK Characters 2 - All About Illustrations is in Japanese, but don't worry if you don't speak Japanese. This is an art book and the focus is all on the artwork.
Golden Sun


Golden Sun is a new RPG for Game Boy Advance which is done in the style of Final Fantasy and such games. It is nothing new, but it is a good game nonetheless.
Ikaruga : Old-school space shooter action with a new look


Ikaruga is a remake of an arcade game of the same name. See what extra modes have been added and how good this game is.
Legend of Zelda: The Wind Waker


The newest game in the Zelda series is truly worthy of the series. Check it out!
Luigi´s Mansion


Luigi´s Mansion let´s Mario´s little green buddie shine in a battle to cleanse a haunted house of ghosts.
Mystic Heroes - Gauntlet Clone


Mystic Heroes is a Gamecube game which is good for 1 player, but better for more.
NiGHTS : Journey of Dreams - Wii


A long-awaited sequel to "Nights into Dreams" for the Sega Dreamcast, "NiGHTS: Journey of Dreams" has a similar theme to its predecessor. The main character, NiGHTS, is an acrobatic being who flies around a dreamscape battling creatures of nightmares.
No More Heroes Wii


A game made by Suda 51, the game maker behind the cel-shaded rail shooter Killer 7, No More Heroes reflects its creator's desire to push boundaries and innovate as much as possible. However, does that mean it stacks up as a game by itself?
Paper Mario - The Thousand Year Door


It's extremely unusual for a game to still be fun and enjoyable eight years later. Paper Mario - The Thousand Year Door is one of those games. And best of all, this GameCube game plays perfectly on the Wii.
Pikmin GameCube Review


Puzzle games exercise your mind without splattering blood all over the screen. Pikmin is a great game that emphasizes cooperation over gore!
Pokemon Snap Review


Being the parent of a 10 year old son, it was inevitable that Pokemon Snap would be high on the "must have" list of games in our household. We picked the game up on Saturday, and set down to a weekend of searching high and low for the elusive Pokemon
Silent Hill Shattered Memories - Wii


A re-imagining of the famed "Silent Hill" series, "Shattered Memories" focuses much more on the psychological elements than the "survival" aspects. As such, it's closer to an adventure game than survival-horror, but it still packs a punch.
Skies of Arcadia : Legends


A Sega-made Gamecube RPG with swords and sorcery mixed with airships and cannons!
Soul Caliber Legends


Soul Caliber is a great fighting games series with a very loyal fan base. With Soul Caliber Legends, they tried to convert the series into an RPG. RGP fans will probably find it lacking, but Soul Caliber fans will appreciate the new look at their world.
Super Monkey Ball 2


Super Monkey Ball 2 is a puzzle/action game that hearkens to the days of Marble Madness and Labyrinth-now with Monkeys!
Tactics Ogre: The Knight of Lodis


"Tactics Ogre: The Knight of Lodis" is a Game Boy Advance turn-based strategy, and it works very well.
The Legend of Zelda A Link to the Past


"The Legend of Zelda: A Link to the Past" was the first Legend of Zelda game people took notice of, and now it´s back!
The Simpsons : Hit-and-Run


The Simpsons: Hit-and-Run is a game based on the television show, The Simpsons. It is very similar, gameplay-wise, to Grand Theft Auto III, except less controversial.
Ty the Tasmanian Tiger


If you love adventure / gathering games where you go from level to level killing enemies and gathering up items, then Ty the Tasmanian Tiger is a great game to get!
Zelda Twilight Princess


Zelda Twilight Princess has been eagerly awaited by legions of Zelda gaming fans. This version features a more adult Link who rides a horse, swings a sword and saves the day.
Editor's Picks Articles
Top Ten Articles
Previous Features
Site Map
Content copyright © 2018 by . All rights reserved.
This content was written by . If you wish to use this content in any manner, you need written permission.
Contact Lisa Shea for details.